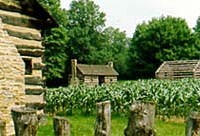 See the Ohio Historical Society Schoenbrunn Website for schedule, hours and admission rates.
Location: South edge of New Philadelphia, off U.S. 250 and Ohio 16, Tuscarawas County -- about 45 minutes from Stratton House Inn. Plan to spend about a half-day visiting this special hsitoric site. Its well worth the drive and time.
Schoenbrunn Village was founded in 1772 by a group of Moravian missionaries and Indian converts from Pennsylvania, and was the first white settlement in what is now Ohio. The War for Independence spelled the end of the prospering little community of 60 cabins, church, school, and cemetery. The Moravians had renounced war and refused to bear arms for either side; as a result, they suffered raids from both sides. Reverend David Zeisberger, the leader, decided in 1777 to abandon Schoenbrunn and concentrate all the Ohio missions elsewhere. Members of the Moravian Church relocated the forgotten village in the present century by means of a map preserved by the mother church at Bethlehem, Pennsylvania. The Ohio State Archaeological and Historical Society acquired the site in 1923 and soon reconstructed a number of buildings on their original sites.