The Underground Railroad Museum of Flushing, Ohio, depicts the ugliness of the slave culture and the courage of those who risked everything to escape it. It tells of fugitive slaves, slave hunters, and the effort of the Underground Railroad to help the former and mislead the latter. The museum holds an extensive collection of artifacts and related publications. It has meeting facilities that will accommodate about 80 people.
Phone: (740) 968-2080 (museum)
(740) 968-6113 (home)
Email: ugrrf@1stnet.net
Address: 121 High St., Flushing, Ohio
Hours: Open daily by appointment. Donations appreciated.
See also: Historic Mount Pleasant and the Franklin Museum. Virtually the entire town of Mount Pleasant was involved in the abolitionist movement and the Underground Railroad. Franklin College also was a "hot bed" of abolitionist sentiment.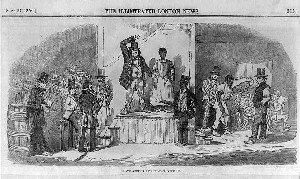 Captions: Top: A photo of Charles T. Webber's painting of the Underground Railroad in winter. It is owned by the Cincinnati Art Museum. Bottom: This 1856 Illustrated London News engraving depicts the slave auction in Richmond, Virginia, which closely resembled the slave auction block in Wheeling. Click images for larger versions.