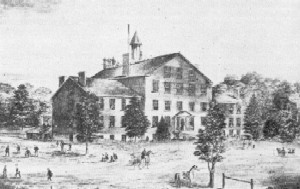 See previous entry: Olney Friends School, Barnesville, Ohio
Near the beginning of the nineteenth century, as the tide of immigration flowed westward, Friends' (Quaker) settlements sprang up west of the Ohio River. These communities grew and prospered and, about 1813, Ohio Yearly Meeting of Friends was established.
Although its members were people who appreciated the value of education, it was nearly twenty years before any Friends' schools were established. During these twenty years, efforts were made by the more influential members to "prevent learning from sinking into the graves of our fathers" as the Puritans were wont to express it.
As early as 1814, the following is found in the Ohio Yearly Meeting minutes: "The consideration of the propriety of ... the establishment of a public institution for the education of the youth of our society ... coming weightily before us ... the important subject is referred to the consideration of the meeting next year."
But life in a new country was too strenuous to permit concentrated attention upon anything beyond mere existence; also, a strong prejudice appears to have existed "to an institution calculated" as they thought, "to foster pride. if not slothfulness also, among those who might avail themselves of the privilege of a Boarding School education."
The subject of building a school was under consideration for years, and at last, in 1832, sufficient money had been raised by donation and subscription to warrant buying sixty-four acres of land near Mt. Pleasant, Ohio. Erection of a school building commenced in 1835, and school opened in 1837, continuing in successful operation until 1874, when, as a result of the "Separation," the school passed from the hands of the Friends known as "Conservatives." The subject of providing a new school "for the religiously guarded education of our children" was taken up immediately.
See next entry: Olney Friends School - History, 1874-1909
For the table of contents and first entry in this series, please see: Olney Friends School, Barnesville, Ohio

Source: This entry is adapted from Olney, 1876-1926, a booklet published on the fiftieth anniversary of the founding of Olney Friends School in Barnesville, Ohio.