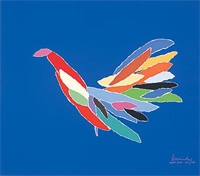 Birding -- birdwatching -- starts in the front-porch swing of Stratton House Inn. Relax and listen to the songs of the many birds that make Stratton Woods their home.
Walk down the front steps of Stratton House Inn and follow the abandoned railroad-bed, which, more than 120 years ago, came up over the hill past Stratton House. Now a gentle, grassy path -- traveled nightly by deer -- the woods on either side of the abandoned railroad-bed abound with avifauna.
Or visit ancient areas of habitation, such as Raven Rocks, which centuries ago nurtured native Americans with bountiful hunting. No longer hunted, the same terrain now nurtures an abundance of birdlife.
Help us build a census of birds in the area and within Belmont County, Ohio, as a whole. As the census develops, we plan to add it to this website.
Stratton House Inn will be a great place to plan your next day's birding adventure, or to relax after a beautiful day in the woods. Return to the front-porch swing -- and share your evening with the whippoorwills -- of which the Potawatomi Indian chief, Simon Pokogan, once said: "Their name is but their song."
Census of Birds of Belmont County, Ohio
To be added. Please help us develop this Census.
Suggested locations for birding in southeast Ohio. Please note the lack of census data for most of these locations.