Stratton House Inn is at the heart of many Ohio travel and tourism destinations. When visiting or vacationing in southeast Ohio, Stratton House Inn will be a convenient location to center your activities. Also, if you are seeking information on travel and tourism attractions in southeast Ohio, this Website will be a useful resource.
Enjoy the championship golf courses, large lakes, Ohio River, underground railroad museums, wildlife preservers, and many historical sites -- while staying at Stratton House Inn.
Stratton House Inn is designed and furnished to accommodate a large family, or several families that are vacationing together. The house is ideal for groups that wish to stay for several days or a week -- in order to explore and enjoy the many attractions in the area. And for those who just want to get away from it all, Stratton House Inn is a great place to watch birds and butterflies -- and deer and wild turkeys, read a long novel, and gaze at the wondrous night sky.

This spacious home, with modern kitchen, many bedrooms, four full baths, and numerous additional rooms, is located on 11 acres. Stratton House Inn will comfortably sleep 16 adults.
The Inn is located across Stratton Lane from a large park, which both children and adults will love to explore.
Stratton House Inn and the area around it offer something for just about every travel and tourism objective in southeast Ohio.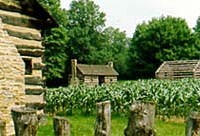 For information on travel and tourism destinations in southeast Ohio, please consult the Attractions section on this website. Also, the History section contains the fulltext of five books related to the area.