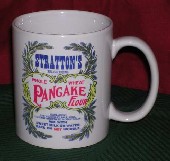 Two coffee cups are available, which feature Stratton Mill or Stratton House designs. Both are 11-ounce white stoneware cups with designs printed on two sides.
The difference in cost (see below) is related to the complexity of and number of colors used in the designs.
1 11-oz mug with Stratton Self-Rising Whole Wheat Pancake Flour Sack design: $10.00
1 11-oz mug with Stratton House Inn sign: $5.00
Shipping and handling are extra.
To place an order, please see: Place an Order on this Website.