When you seek a central location to re-unite scattered family members and friends for the holidays -- Stratton House Inn quite literally will be your welcoming home away from home.
Come "home" to Stratton House for that very special gathering, which everyone shares and no one person hosts alone. Enjoy togetherness -- with the option of a relaxing retreat, when desired.
With its modern kitchen and open stairways, awaken to the aroma of perking coffee and sweet-rolls baking. With its double ovens and generous assortment of Calphalon cook- and bake-ware, prepare that special meal of roast turkey and apple pie -- which evoke memories of holidays past.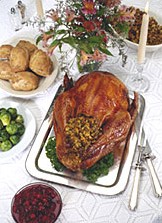 And once again gather around an extended "harvest" table as a single, joyeous family.
While there are five bedrooms on upper floors -- which can accommodate several families -- the first-floor Office and Parlour can accommodate aging parents and grand-parents. The Parlour has a queen-size futon with very comfortable mattress, and the Office has a couch that makes into a regular-size bed. These are just down the hall from a handicap accessible bathroom.
With its three sets of "double-sixteen" dominoes, play that ultimate game of "chicken-foot". Or gather as a family in the Sitting Room to watch that new DVD. Bundle up for a walk along a country lane -- following deer and turkey tracks in the snow. Or bring your sleds and skiis -- and enjoy the snow-covered hills that surround Stratton House.
You will have lasting, sweet memories of a very special time at Stratton House Inn. You will always cherish that week when you made Stratton House Inn your home sweet home for the holidays.