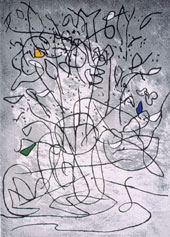 Stamping consultants in Ohio, West Virginia, and Pennsylvania will love the facilities available for them and their current and future customers at Stratton House Inn.
Stampers will have plenty of room to spread out -- but still be surrounded by others who stimulate, inspire and encourage each other. Or take your inspiration from the woods, meadows, and park that surround the house -- or from the many original works of contemporary art on the walls of Stratton House Inn.
The Inn is located within two hours of Pittsburgh, Columbus and Cleveland, and is two and one-half hours north of Charleston, WV.
Stratton House Inn will accommodate approximately 20 persons for a stamping retreat and will comfortably sleep 16 adults.
If you are a stamping consultant, please contact us to reserve your special weekend.
If you would like to attend a stamping weekend sponsored by a consultant, please see Schedule of Events for the next-scheduled "open" stamping weekend.
Caption: The artwork above is an original hand-pulled, limited edition, fine art print by the internationally known artist, Arthur Secunda. The work is titled "Etude." The accent colors in Etude are hand applied, much like a stamper will fill-in color. This work, and many others by Secunda, grace Stratton House Inn.