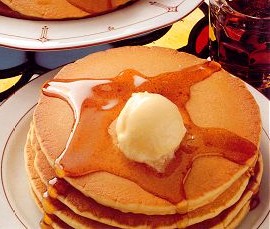 This pancake mix contains the finest natural ingredients. The pancake mix contains no preservatives or artificial colors. The formulation for this pancake mix originally was developed by historic Stratton Flour Mill in the 1920s. The self-rising pancake mix became famous throughout the Ohio River Valley for its rich flavor, light texture, and beautiful golden color. The original formulation for the pancake mix was discovered in cleaning out Stratton House following the death of the last miller. Today the pancake mix is hand mixed in small batches from selected, quality ingredients.
Follow the instructions to produce delicious, golden brown pancakes, or see the Recipes on this Website to make waffles, muffins, and other mouth-watering products.
Not only are these pancakes delicious and nutritious, they are inexpensive. The stack of pancakes shown here can be served for as little as $0.40 per person. Add to that cost the special toppings, side dishes, and beverages of your choice. The result will be a gourmet pancake breakfast at a very modest price.
Note: The Mix contains powdered milk, sugar and salt. A Self-Rising Whole Wheat Pancake Flour also is available, which does not contain powdered milk, sugar, or salt. Please specify your choice when ordering.
Package Sizes
3-cup sack -- makes about 18 medium-size pancakes: $2.50
3-lb sack -- approximately 7.5 cups: $6.00
5-lb sack -- approximately 12.5 cups: $9.00
10-lb sack -- approximately 25 cups (about 150 pancakes): $15.00
Larger quantities can be custom ordered.
Shipping and handling are extra.
To place an order, please see: Place an Order on this Website.