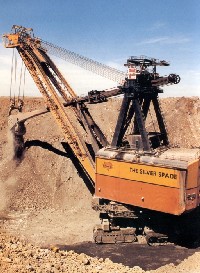 Working just north of Flushing, Ohio -- near New Athens, Ohio -- for the last forty years, the Silver Spade has been one of the largest earth-moving machines in the world.
Featured on the television program and videotape/DVD, "Monster Machines", the boom of the Silver Spade can be seen from various locations in and near Flushing and New Athens.
The Silver Spade constantly is on the move, so it is not possible here to state exactly where it will be when you seek it, but you will see its handiwork from every road. With some exploration -- or a stop in New Athens or Flushing to ask where it currently is working -- you should be able to identify its current location.
As you drive from Flushing to New Athens, you will traverse the point where the Silver Spade recently crossed the road -- moving from mined-out areas east of the road to coal fields west of the road -- where the Silver Spade currently is working. For an account of this move, please see: Silver Spade, at Stripmine.Org
For George F. Doughty's memories of the Silver Spade, please see: Helping to Build the Silver Spade
Caption: Silver Spade. For a larger version, click image.

Of Related Interest
Harrison County
Consult the Museum's website for details on the Ohio Coal & Surface Mining Museum Project.
Noble County